About Us
The All One Foundation offers what we believe to be different to the usual offerings. We have no teachings, and definitely no dogma, so this may not leave much to talk about!
With us not telling you how you should think or run your life, you might feel it's all too simple. But what if beliefs and doctrines get in your way? What if a direct spiritual experience might be what you really seek? What if you might come to see, that information you have sought elsewhere, might actually be inherent inner knowledge of another self?
Our trainings, based on your direct experience and our open-ended approach, provide simple tools that move you towards upliftment and transcendence.
During the journey, there is ongoing potential and possibilities.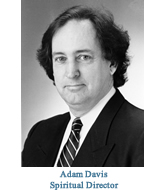 The All One Foundation was founded in Sydney, Australia, in 1979 by its Spiritual Director, Adam Davis. The Foundation evolved from Adam questioning the limitations of emotional and mental based change whilst he was working as a psychotherapist in the seventies. From his open-ended process of enquiry and ensuing experiences, emerged the spiritual, experiential and non-dogmatic basis of the All One Foundation.
Through its work The Foundation strives to provide opportunities for the community to gain experiences and tools that can be applied on a daily basis, to further individuals' personal empowerment and self-direction. (For examples see comments by 7Second participants the Testimonials on our Openings page.)
It is well documented that meditation and a positive focus of any kind contributes to a person's physical, mental and emotional wellbeing, enhancing their ability to manage stress, gain greater mental clarity and a positive attitude, assisting them in their personal and working lives. Groups that we have worked with include Cansurvive, and indigenous youth. 7Second is a new training.
The All One Foundation has been a registered not-for-profit organisation since 1987. It is governed by a Board of Directors who are accountable for the financial management of the organisation and that it abides by its articles. The administration of the Foundation is handled voluntarily through regional offices throughout Australia by Foundation members, training participants and volunteers. We are an approved Centrelink Volunteer Centre, and provide work experience opportunites, training and support into paid employment for the unemployed.
The All One Foundation is committed to keeping its operating costs at a minimum, so that the price for its services and trainings can remain free, by donation, or on a cost recovery basis. We are generously supported with donations that assist in covering our ever increasing operating costs.
We acknowledge the active support of Connecting Up IBM, Microsoft, Symantec, IT Next Generation, Practical Applications Pty Ltd, Mojito Consulting Pty Ltd, Jaycar Electronics and Harris Technology, as well as our many committed volunteers.